---
We independently research, test, and recommend the best products; you can learn more about our review process here.
According to a study by the National Center for Biotechnology Information, the easiest way to prevent ultraviolet light damage is by wearing polarized sunglasses while outdoors (in our case, this means while fishing). [1]
An often overlooked and underappreciated piece of fishing gear is sunglasses.
The best fishing sunglasses in 2023 are polarized and protect your eyes from harmful UV rays, eyestrain, wind, and allow you to see fish in the water.
We found the Costa Jose Pro sunglasses do this the best.
In this article, we have searched far and wide for the best sunglasses for fishing on the market.
We compiled all of them into a quick comparison table and then go into greater detail below, giving our thoughts for each pair.
Read on to catch more fish and protect your eyes while doing it!
Top 3 Best Fishing Sunglasses Picks
After testing several pairs of sunglasses while fishing and at trade shows, here are my top three choices.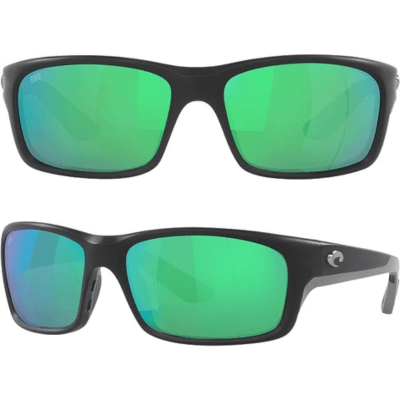 Costa Jose Pro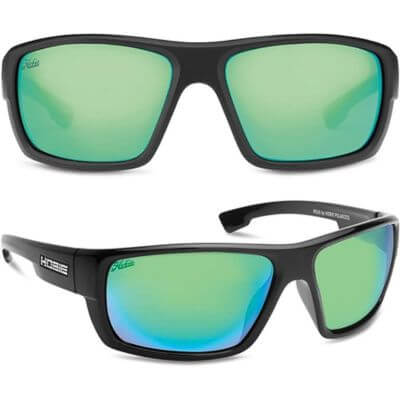 Hobie Mojo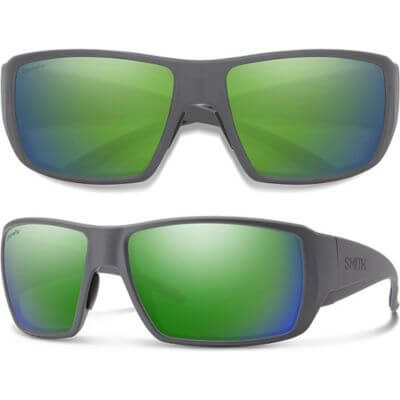 Smith Guide's Choice XL
---
Testing Procedure
Anglers.com Community Coordinator Wesley Littlefield gives us the pros and cons of three polarized fishing sunglasses in this YouTube video.
When testing the following sunglasses, I looked for a few key features, such as comfort, unique features, protection, and price, which helped them stand out above the others.
Comfort: The first pair of fishing sunglasses I bought were not comfortable. So even though they were polarized lenses, they did me no good because I couldn't wear them very long without getting a headache.

The glasses on this list are much more comfortable for heads of all sizes.
Features: Before entering the world of sunglasses, I thought they all had the same purpose and features.

Boy was I wrong; the best sunglasses separate themselves from the rest of the field because they have features that channel the sweat away from your eyes or float.
Protection: If the fishing sunglasses aren't protecting your eyes and helping you see better while on the water, then there's no reason to wear them.

The best fishing sunglasses are polarized, and the frames block the light from all other angles.
Price: This is where it gets tricky because we have to find a balance between comfort, features, and protection and our budget. The more comfortable features and protection sunglasses have, the more expensive they will be.
BEST OVERALL
Costa Jose Pro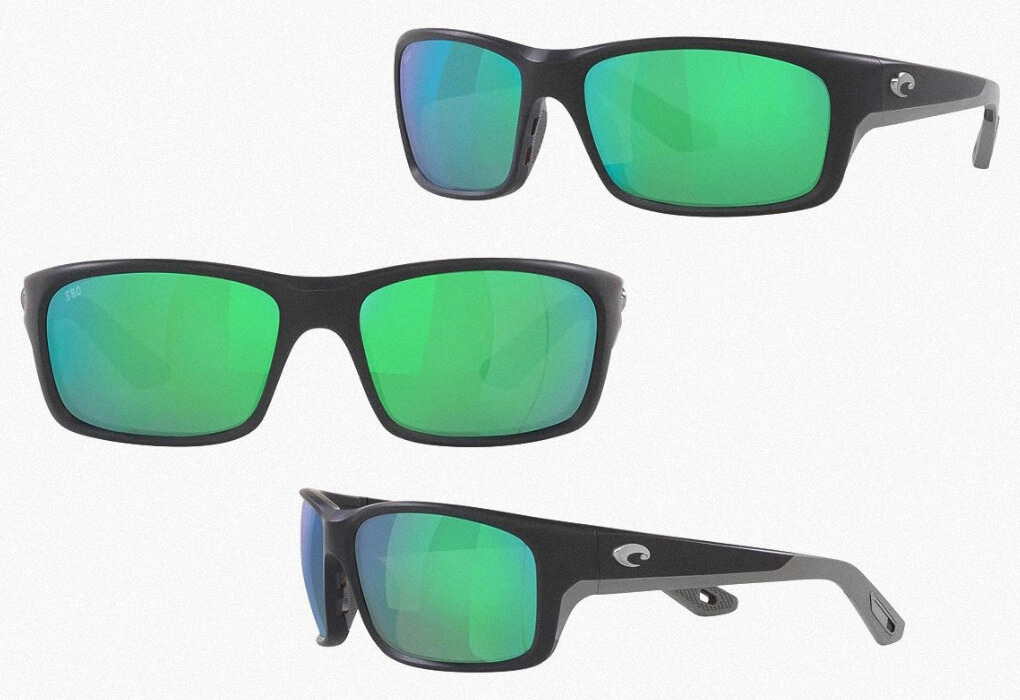 Specs
Prescription Lenses: Available
Frame Fit: Large
Polarized: Yes
Why We Chose It
The Costa Del Mar Jose Pro polarized sunglasses are the best fishing sunglasses overall because they are comfortable, protect your eyes, and have several unique features I haven't found on any other brand of sunglasses.
I love my Costa Jose Pro sunglasses!
They're so comfortable. That's thanks to a few things, the main one being the adjustable nose piece.
I have a nose that glasses love to slide down, and that doesn't happen with the Costa Jose Pros because I can set the nose piece to hold the sunglasses on my face where I need them.
They are also comfortable because the frames are lightweight, and where the arms set on your ears are Hydrolite, a rubber material that's very forgiving yet just sticky enough to hold them in place.
I really like that there are multiple lens colors to choose from because you can order the pair of Costa fishing glasses that best suits your needs and personality.
For instance, I primarily bass fish in lakes and ponds, so the copper-based lenses work best for me. But if you're offshore fishing, gray lenses with a blue mirror coating will be a better suit for you.
The larger frame is also nice because it blocks most of the sun from the top, bottom, and sides without looking ridiculous and getting in the way of my fishing hat.
Despite being the best polarized fishing sunglasses I've found, they have a downside I must bring to your attention.
They are expensive, so you won't want to lose or break them.
Even though I think the Costa Jose Pros are a little pricey, they're not out of the norm for polarized fishing sunglasses, which is why they hold the top spot in this review.
BEST KAYAK FISHING SUNGLASSES
Hobie Mojo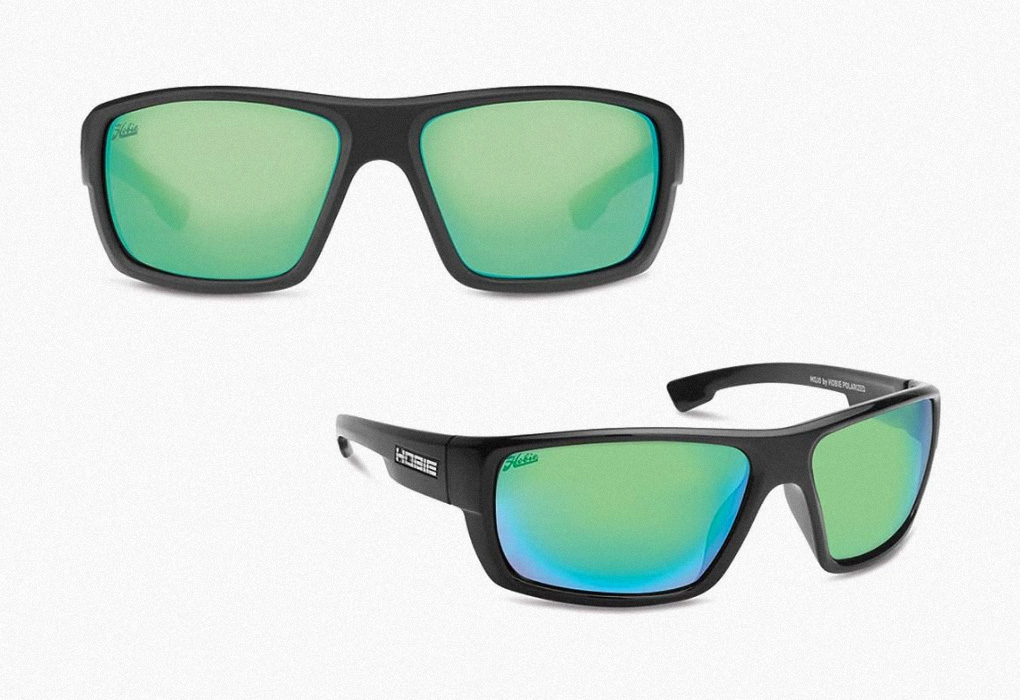 Specs
Prescription Lenses: No
Frame Fit: Medium
Polarized: Yes
Why We Chose It
The Hobie Mojo floating sunglasses are the best kayak fishing sunglasses because they're comfortable, protect your eyes, and they float!
I've watched helplessly as more than one pair of prescription sunglasses sank to the bottom of the lake, but that ends with the Hobie Mojo floating sunglasses.
Yes, I've tested it many times, in the pool, at the lake, and in the river!
While my Costa Jose Pros are my favorite, that's only by a tiny margin because since they float, I would have to try very hard to lose my Hobie Mojo sunglasses when partaking in any of the outdoor activities that I love, especially kayak fishing.
The lightweight frames are super comfortable, I barely can tell they're on my face. Yet, they're big enough to block most of the light that tries to creep around the edges.
It's tough for me to believe that these polarized fishing sunglasses are less than $150.
I mean, they're half the price of the Oakley Radar EV Path sport sunglasses, which don't block the sun as well on the sides and bottom of the lenses.
I also like the Hydro 360 polarized lenses that cut the glare and help me see into the water much better than I expected.
There is a drawback to these sunglasses, and that's quality control.
They look like more inexpensive sunglasses, such as the Strike King SK Plus Hudson, and some customers have complained of them breaking after dropping them from three feet.
However, I've had my pair for over a year and haven't broken them.
Despite looking like cheap fishing sunglasses, the Hobie Mojo floating sunglasses are the best kayak fishing sunglasses on the market because they float, protect your eyes, and are reasonably priced.
If you're prone to watching your sunglasses sink to the bottom of the lake, river, or ocean, you have to pick up a pair of Hobie Mojo floating sunglasses!
BEST FOR INSHORE FISHING
Smith Guide's Choice XL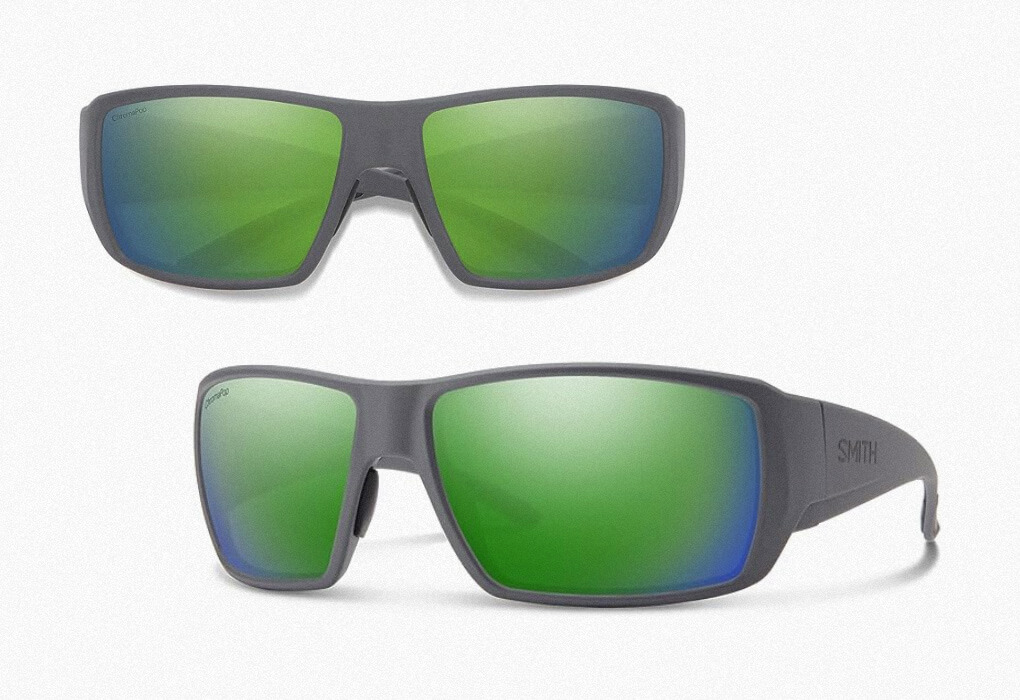 Specs
Prescription Lenses: Available
Frame Fit: XL
Polarized: Yes
Why We Chose It
Smith Optics Guide Choice XL should be the choice for any inshore angler looking for durable sunglasses that help you see details others will overlook. I love that Smith stands behind its quality products with a lifetime warranty.
The Smith Optics Guide's Choice XL frames have oversized side shields to help keep out wind and unwanted light while cruising in the boat and fishing.
I've been very impressed with the materials used by Smith; they make sunglasses designed to withstand the abuses of fishing guides, so you know these will hold up for years.
The ChromaPop lenses (similar to the PolarizedPlus2 lens technology in the Maui Jim Makoa frames) are what make this pair of sunglasses stand out the most.
When I put them on, certain details that I previously overlooked just popped, and I can see how this would be a huge benefit to shallow water anglers, whether they're fly fishing or launching lures.
The glass polarized lenses also mean greater scratch resistance, so you don't have to be overly concerned with babying your sunglasses.
I also love that Smith Optics is continuously updating its products to benefit the customer better.
However, there were a couple of things I didn't love about these sunglasses.
The first con is that light still gets to your eyes from the top and bottom of the frames, but this is helped by wearing a hat.
The other drawback is that these frames are huge! Smaller people like myself will need to opt for the Smith Guide's Choice (smaller frames) or Costa Jose Pro.
These cons are easily overlooked when experiencing the ChromaPop lens technology and build quality of the Smith Optics Guide's Choice XL sunglasses. Shallow-water anglers will benefit the most.
BEST BASS FISHING SUNGLASSES
Oakley Split Shot Prizm Shallow Water Polarized Lenses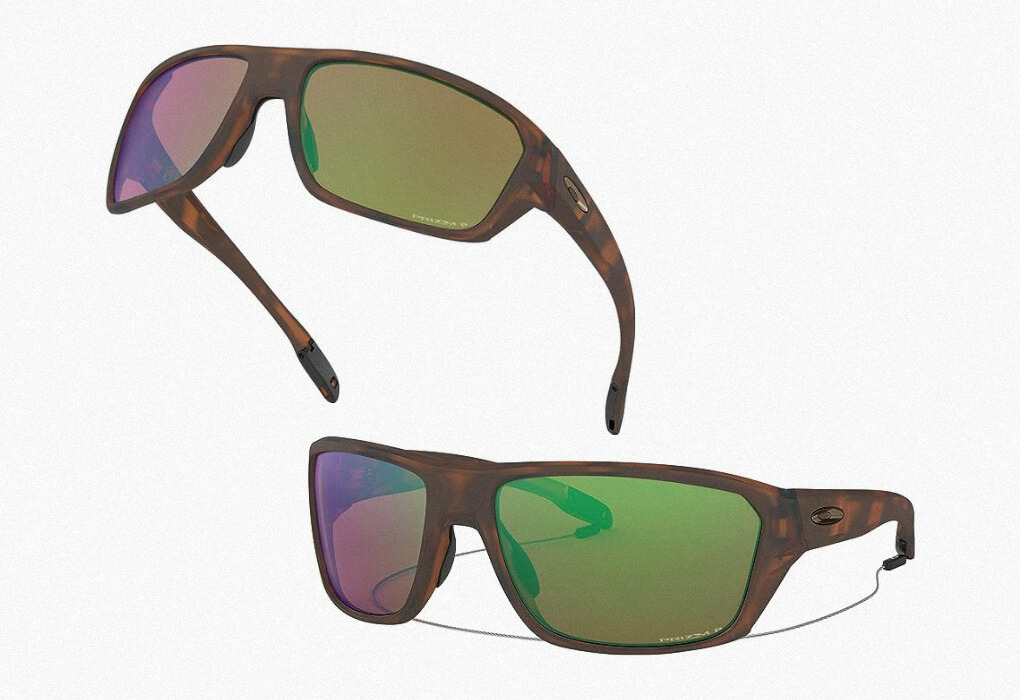 Specs
Prescription Lenses: Available
Frame Fit: Medium
Polarized: Yes
Why We Chose It
The Oakley Split Shot Prizm Shallow Water Polarized Lenses are perfect for bass fishing because they wrap around your face, are impact-resistant, and the lenses are specifically designed to peer into shallow water.
Oakley is a well-known company in the sunglasses arena. They make high-quality products for several different activities.
With multiple options to choose from, Oakley Split Shot sunglasses will fit most of any angler's needs including deep water scenarios, with the Prizm Deep Water Polarized Lenses.
When the Prizm Shallow Water Polarized lenses are inserted into the Split Shot frames, they are PERFECT for bass fishing.
I love that the Prizm Shallow Water Polarized lenses allow you to see into the water and differentiate between a fish, a stump, or a rock. I've been known to cast a submerged stump thinking it's a fish…I wish I had had these lenses to prevent that!
Because the Split Shot frames are designed to be worn with a hat, this means the bill of your cap won't be pressing down on your glasses, causing discomfort.
Again, I always wear a hat when I'm out fishing, so this was a solid "pro" for me.
The customizability that Oakley offers means you can create the exact pair of eyewear you want; just be warned, that can quickly get expensive!
Another aspect of these sunglasses that will benefit anglers is how well they protect your eyes from wind, bugs, and unwanted sunlight.
However, I think the Wiley X Gravity fishing sunglasses do an even better job (You can see my review of the Wiley X Gravity sunglasses in the video below).
Just because these are good sunglasses doesn't mean they're perfect for everyone. I dug up a couple of downsides to them.
The first con is the price. As I previously mentioned, Oakley sunglasses aren't cheap, so be ready to fork over some dough.
The other downside is the lack of a warranty. Unlike Smith Optics, Oakley doesn't offer much of a warranty on their sunglasses.
Even with the cons, the bass angler who enjoys the sporty look that these Oakley fishing sunglasses offer but still needs the practicality of bass fishing sunglasses should seriously consider the Oakley Split Shot Sunglasses.
BEST WOMEN'S FISHING SUNGLASSES
Costa Waterwoman 2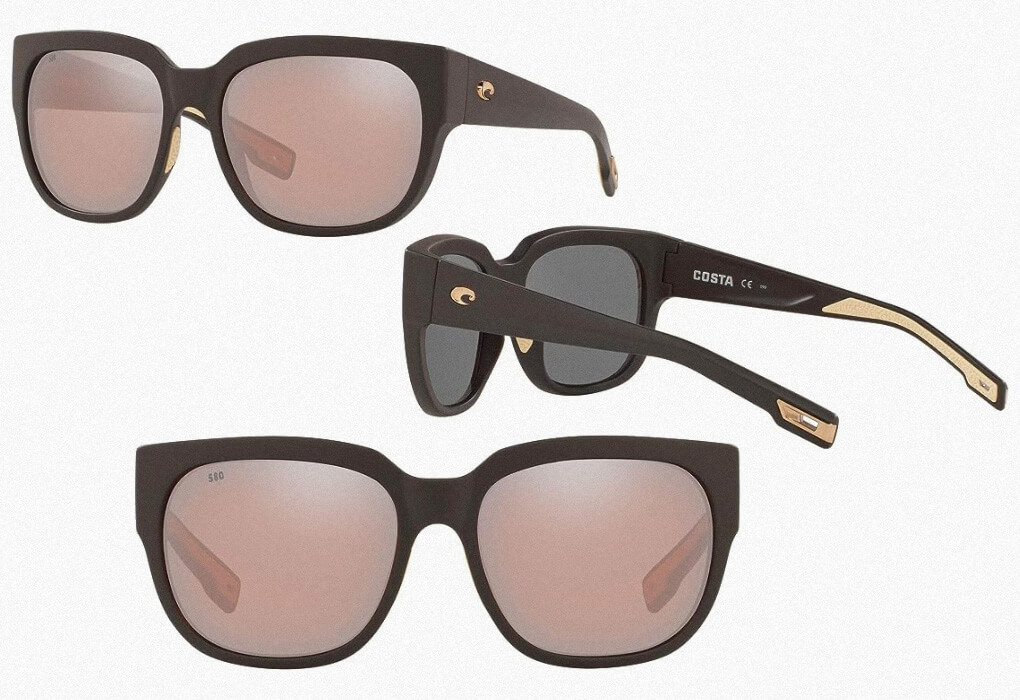 Specs
Prescription Lenses: Available
Frame Fit: Medium
Polarized: Yes
Why We Chose It
Costa thought to help female anglers by designing sunglasses that not only look good but fit the female face as well.
The Waterwoman 2 sunglasses are designed with a feminine shape to fit women's faces much better than unisex or men's fishing sunglasses, which is why they're the best fishing sunglasses for women.
These fishing glasses frames come in different colors; instead of only offering matte black, Costa offers jade, transparent beige, and Shiny American Sky colors.
The main feature here, which I want to dive into, is the large lenses that these come with.
On the one hand, I love them because they stop the UV rays from reaching the eyes and allow you to see fish in the water better.
However, you might find the large lenses a bit annoying due to their weight and size. If you wear a hat on the water (like my wife), they will push the bill of the hat up, which defeats the purpose of the bill.
If you're looking for a smaller frame fit, the original Waterwoman sunglasses are a great option.
I also love that Costa sunglasses come with a limited lifetime warranty, so if something is wrong with your sunglasses, they'll replace them most of the time.
Even though Costa makes solid sunglasses, there are a couple of things that make the Waterwoman 2 frames less than perfect.
The first has already been touched on, The large lenses push on the bill of your hat, which will cause the frames to push on your nose more, making them a little uncomfortable at times.
The other con is that they won't protect your eyes from the wind and unwanted sunlight, as well as some of the men's frames because these frames don't wrap around your face like the others do.
However, even with the downsides, I suggest grabbing some Waterwoman 2 sunglasses if you're a female angler because I value eye protection over comfort, and these do a good job of protecting your eyes!
BEST FOR OFFSHORE FISHING
Costa Santiago Untangled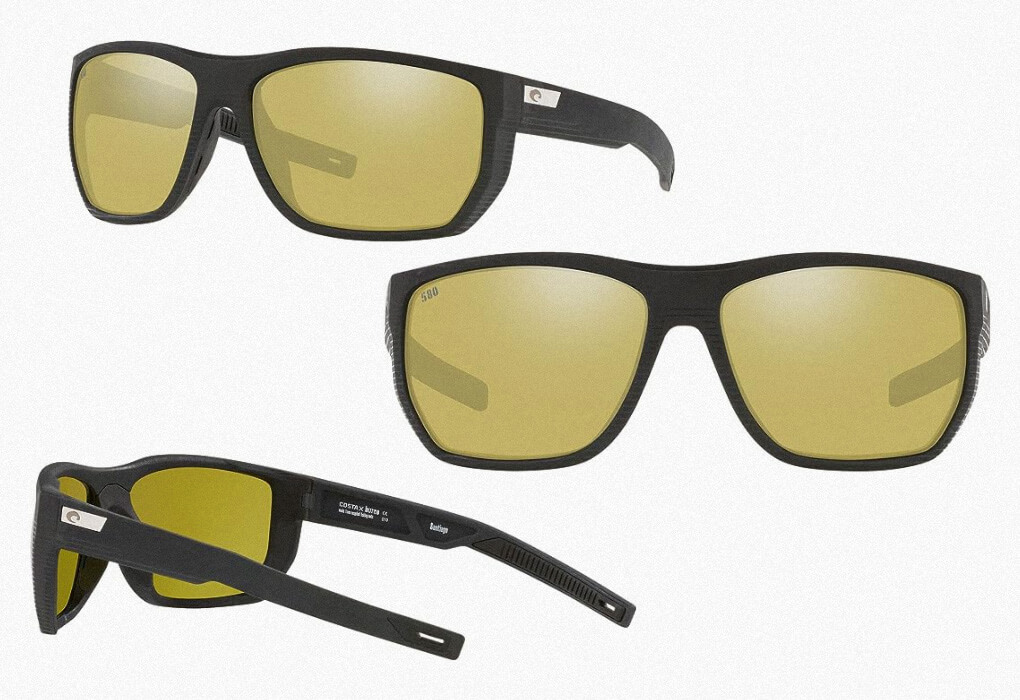 Specs
Prescription lenses: Available
Frame Fit: Medium
Polarized: Yes
Why We Chose It
As you already know, Costa is known for making high-quality sunglasses, which is why they're on the list multiple times!
Santiago sunglasses have the necessary lens options to cover offshore and inshore fishing, but they perform best for offshore anglers.
I love the Santiago Untangled model because (somehow) Costa found a way to make these from 97% recycled fishing nets.
So they not only protect your eyes, but they help protect the ocean.
As an angler, I'm all about preserving resources that give me hours of enjoyment (lakes, oceans, ponds, etc.), and if buying a more ethically sourced sunglass pair does this, then consider it done.
Also, the Costa Santiago Untangled sunglasses just have a solid design for us anglers.
They have a hood and side shields to keep the distracting wind and light out of your eyes so you can focus on what's most important, fishing.
I think the frames are incredibly comfortable and stylish so that you can wear these out in public comfortably, and no one is going to think you look weird unless you were born that way like I was…
However, the frames only come in black, so if you're hoping to get a gray or any other color, you're out of luck.
The other thing I didn't like about the frames was how much unwanted light would creep in from the top and bottom. It wasn't all that much more than other frames, but I still noticed it.
The minor cons don't disqualify the Costa Santiago Untangled sunglasses from being the best offshore polarized fishing sunglasses.
So if you're offshore fishing or just a fan of the ocean – these are the polarized sunglasses for you!
BEST FISHING SUNGLASSES FOR THE MONEY
KastKing Skidaway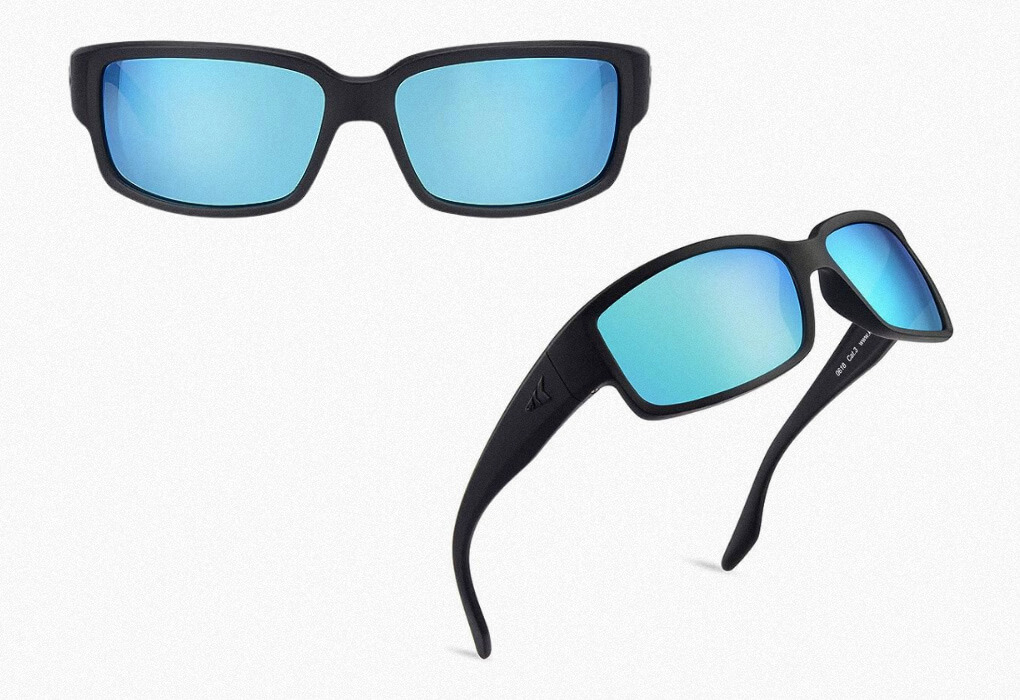 Specs
Prescription Lenses: Not Available
Frame Fit: Medium/Large
Polarized: Yes
Why We Chose It
KastKing Skidaway sunglasses are the best cheap polarized sunglasses for fishing because they don't require a small loan to purchase them.
You can buy multiple pairs for the different fishing you do or just to have them as a backup. The low price means you don't have to worry so much about losing or breaking them.
I'm personally tough on gear, so knowing I'll only be out one meal if I break these instead of ten meals (when buying an expensive pair of sunglasses) is comforting.
Storage is also nice with these because the lenses have a scratch-resistant coating. So you can just throw these in your truck or the glove box of your boat without having to worry about them getting scratched.
I think it's cool that they come in multiple color options in the frames and lenses, so they will be able to meet your fishing needs no matter what type of fishing you choose to do.
They are also unisex and a medium to large fit, so they should fit your face just fine.
Since they're a budget-friendly option, you'll have to make a few compromises.
One of those compromises will be comfort. They're not super uncomfortable, but after wearing higher-end sunglasses, it'll be hard to go back to these.
The other downside is how quickly the lens coating deteriorates. If you're an avid angler, you'll likely have to buy a couple of pairs per year.
All in all, I'd highly recommend the KastKing Skidaway sunglasses if you're on a smaller budget or just looking for a pair of discount fishing sunglasses to have as a backup.
They won't turn the heads of other anglers at the local fishing hole, but they're going to get the job done (for cheap!).
How To Choose The Best Polarized Sunglasses for Fishing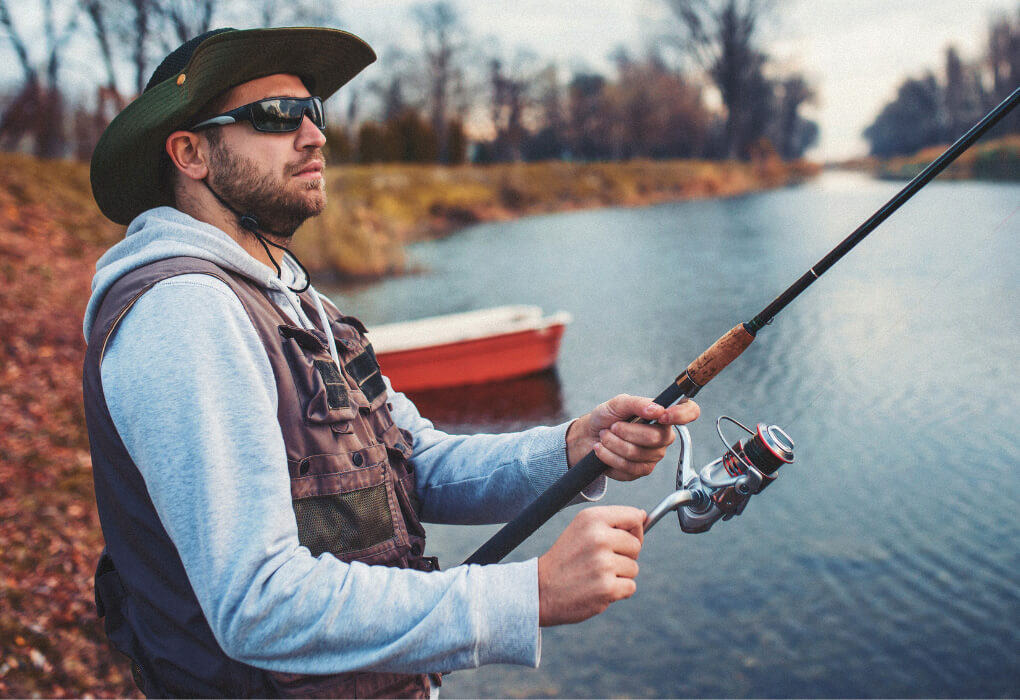 Not all fishing sunglasses are the same because not all fishing situations are the same.
Like everything else regarding fishing gear, it's a matter of angler preference and situation.
There are numerous quality fishing sunglasses on the market, so how do you choose the best pair of sunglasses for you?
The two most significant contributing components to good fishing sunglasses are the frames and the lenses.
Frames
Nylon frames are the best for fishing, especially in saltwater.
A good pair of frames are comfortable and help protect your eyes from wind and excessive light.
They will have a similar fit and feel to goggles because they wrap around your face and eyes.
You don't want to spend your money on a pair of fishing sunglasses that you can't wear all day long because they are too uncomfortable.
I've had a cheap frame that pressed against the side of my head so hard it gave me a headache after wearing them for an hour.
Needless to say, I don't wear them anymore, and this is something you need to keep in mind when picking a pair out for yourself.
Lenses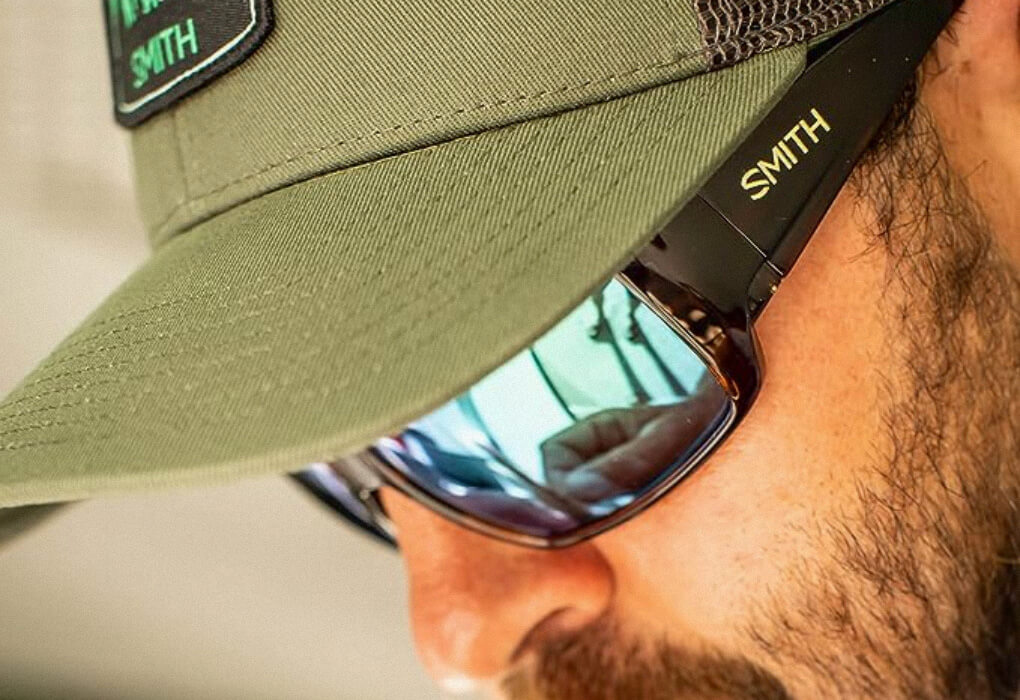 A good pair of lenses is going to allow for clear or enhanced vision.
All fishing sunglass lenses must be polarized. If they are not polarized, then you are wasting your money.
You will notice ALL of the sunglasses mentioned on our list have polarized lenses, even the budget-friendly pairs. This is because they help you see in the water and protect your eyes from different light wavelengths like UVA, UVB, and UVC rays which can cause damage when exposed to your eyes for long periods of time, such as while fishing.
Lenses are made from several different materials. The most common are polycarbonate, glass, and polyurethane.
Polycarbonate lenses are lightweight and shatter-resistant but not scratch-resistant.
Glass lenses offer more clarity, but they are heavier and not impact or shatter-resistant.
Polyurethane is the most expensive, but it provides the benefits of glass and polycarbonate.
The lens color also drastically affects how your lenses perform under different conditions, which we'll dive deeper into below.
Many manufacturers offer prescription fishing sunglasses, so if you need glasses to see, you don't have to sacrifice the benefits of wearing polarized glasses for fishing.
Factors to Consider When Buying Polarized Sunglasses For Fishing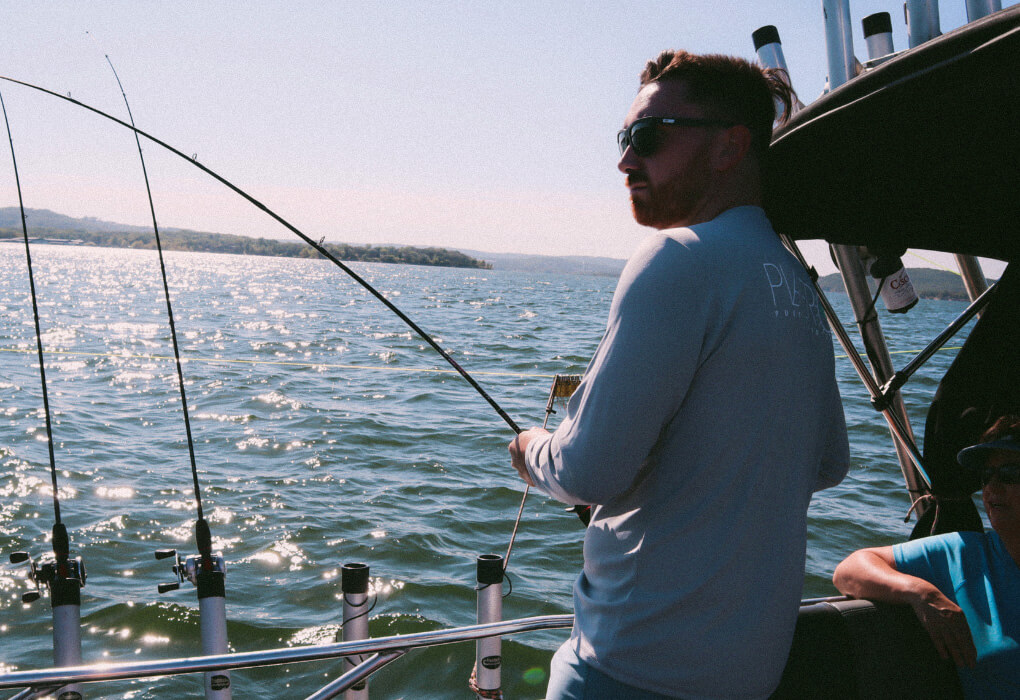 When buying your first or 10th pair of polarized fishing glasses, think about the most common scenarios you face while fishing and buy the pair that best suits those scenarios.
Weather Conditions You're Fishing
Even when the clouds are overhead, sunglasses can be highly beneficial to an angler, allowing them to better see into the water.
For cloudy days red or bronze-tinted sunglasses work the best.
Sunny days are when we think of needing sunglasses the most.
The lens colors that work best on sunny days are greens, grays, and browns. Blue lenses also help, but they aren't ideal.
Time of Day You're Fishing
Early in the morning or late in the evening, you might not consider wearing your sunglasses.
However, these are vital times for sight fishing. In these low-light conditions, yellow lenses work the best.
You can switch to your cloudy or sunny pair when the sun is shining brightest the rest of the day.
Where You're Fishing Trip Takes Place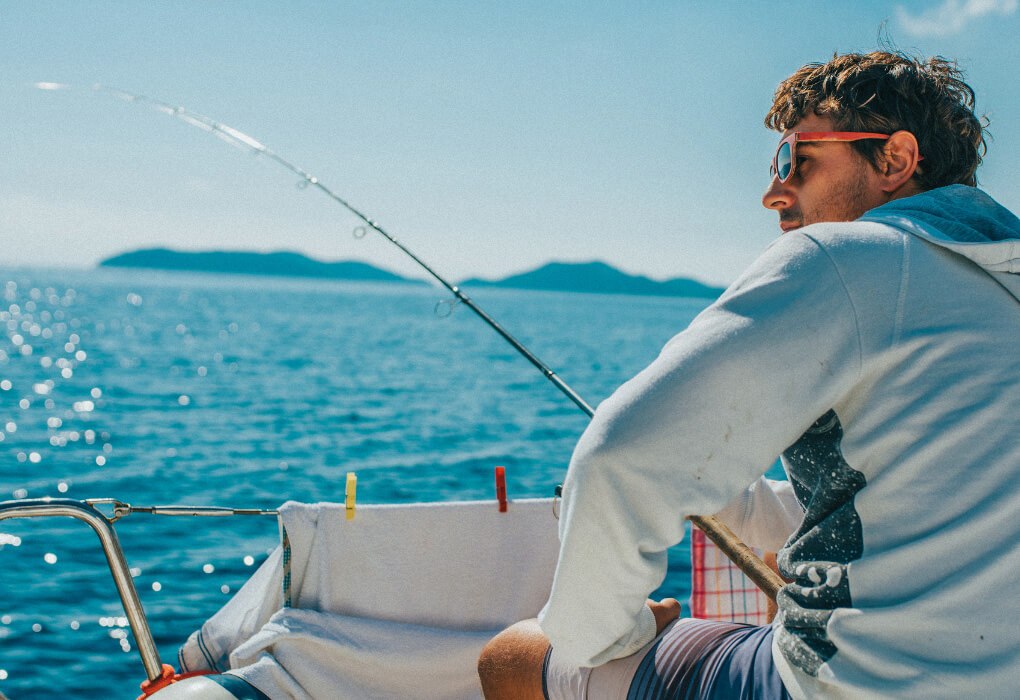 Your eyewear will perform best in different environments, depending on your lens material and tint.
When offshore fishing, you will face more intense sunlight reflecting off of the water's surface.
This is why having frames and lenses that completely protect your eyes is extremely important.
Gray lenses with a blue mirror coating will perform best while in open water.
When inshore fishing, you will likely have objects that help to block or absorb some of the sunlight.
When fishing, freshwater rivers, lake edges, and ponds, trees will cast a shadow on the water, making it difficult for your eyes to see into the water.
A green mirror or bronze with copper mirror shines under these conditions.
You'll Also Need
Once you find the sunglasses you want, you're going to need a couple of other items to protect your face from the sun and wind.
Hat
A fishing hat will help reduce the glare directly from the sun so that you won't be squinting all day long.
Face Shield
A face shield acts as a sun blocker while fishing and a wind blocker while traveling to your fishing spot.
Fishing Shoes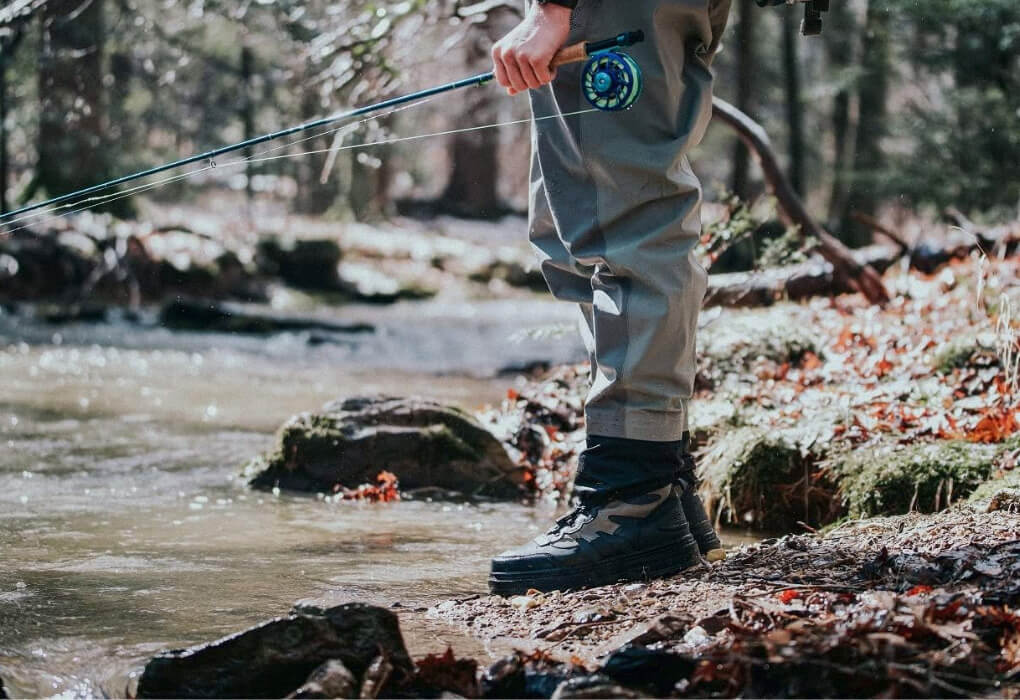 A comfortable pair of fishing shoes is essential because you'll be spending a lot of time on your feet, whether you're fishing from the bank or on a boat.
Frequently Asked Questions
Below we've rounded up some of the most commonly asked questions about the best fishing sunglasses.
What type of sunglasses are best for fishing?
Polarized sunglasses are the best type of sunglasses for fishing.
Are any polarized sunglasses good for fishing?
Yes, any polarized sunglasses are good for fishing. However, there are certain frames that are better suited for fishing than others.
Is polarized glass or plastic better for fishing?
Polarized glass is better for fishing because it's more scratch-resistant. However, glass lenses are more expensive.
What are the best fishing sunglasses?
Last Cast
Choosing the best fishing sunglasses comes down to personal preference.
I prefer the Costa Del Mar Jose Pro Sunglasses because they can cover just about any fishing scenario and provide the most features for the price.
However, purchasing any polarized glasses on the list will help you while you're on your next fishing trip!
If we failed to mention your favorite fishing sunglasses (or you have a pair you'd like to share with our community), let us know in the comments below!